• • By Real Humans. For Real Humans. • •
Psychiatrist in Los Angeles, CA
Finding an in-network psychiatrist in LA has never been easier. Introducing Neuro Wellness Spa Psychiatry: personalized online and in-person medication management and the most up-to-date treatments, delivered by world-class psychiatrists and nurse practitioners for the best outcomes possible.
Start Working With Your Los Angeles Psychiatrist Today
We know finding excellent psychiatric care can be hard— vetting psychiatrists, filling prescriptions and keeping current with ongoing appointments.
Neuro Wellness Spa Psychiatry makes it easy. Our team of doctors, NPs, and technicians offer innovative treatments and high-quality mental health care, all in one place.
Meet Our Care Team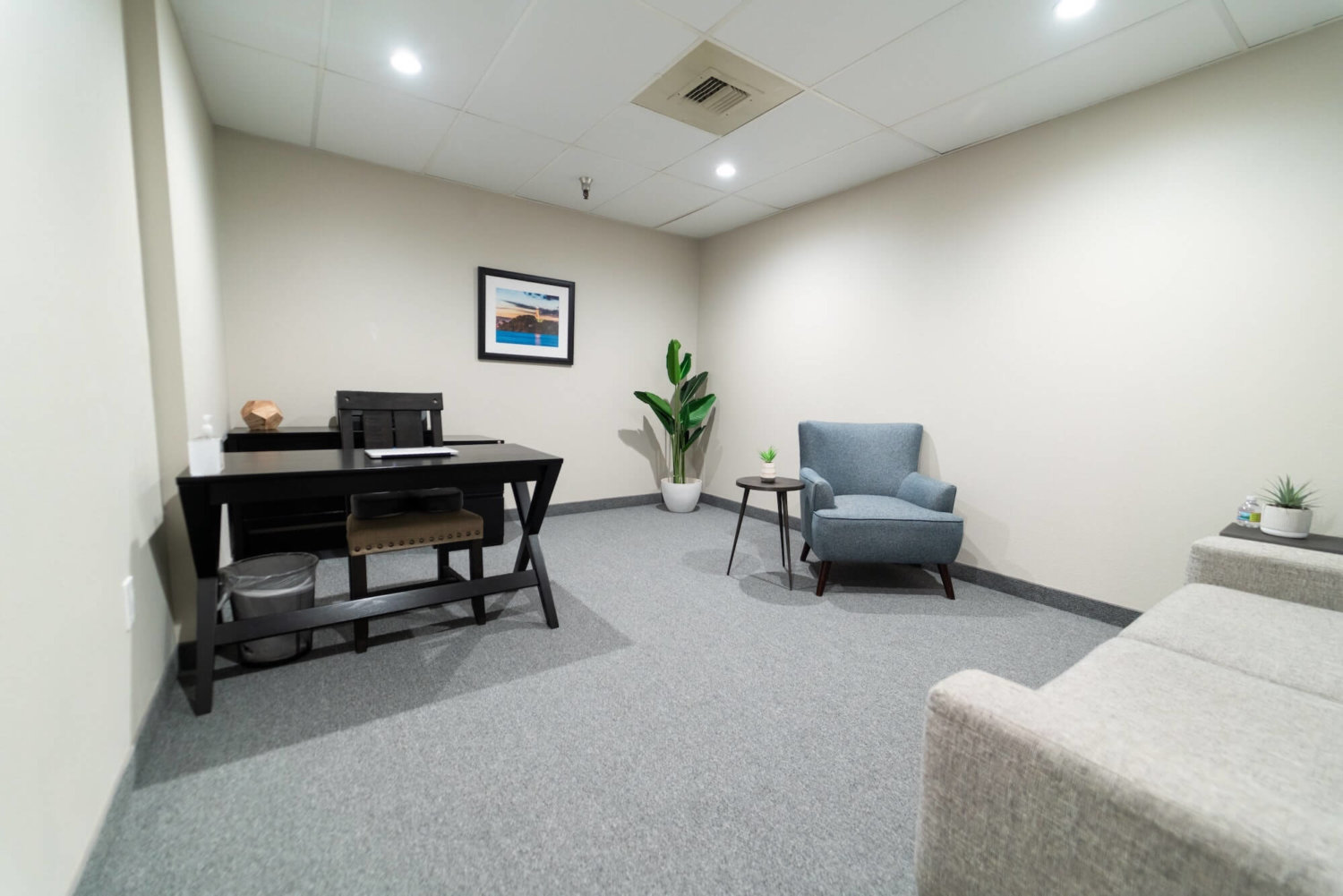 Prescriptions When You Need Them
Medication isn't right for everyone. But for some people with disorders such as anxiety, depression and other conditions, the results can be profound.
Our no-pressure clinicians here in Los Angeles can work with you to figure out whether antidepressants or a non-pharma alternative, like TMS, might work for you.
Appointments Available Online and In-Person
Neuro Wellness Spa's psychiatry appointments are available in-person or online, conducted through a HIPAA compliant video-conferencing platform which protects your confidentiality and privacy. This means you can skip the commute, the wait and taking time off of work or school and still receive prescriptions you need, when you need them.
Covered by Most Insurance
We partner with each patient to understand their unique mental health goals, and help them achieve long-lasting, transformative results. Because you deserve to feel better, and life feels better when you do.
That's why we offer convenient, affordable appointments that can be scheduled in-person at one of our Los Angeles locations or online. Plus, our psychiatry appointments are covered by most insurance, so you can focus on what's important.
You Have Options for Mental Health Treatment
After a comprehensive consultation, our providers offer the latest treatment interventions for the best outcomes possible, including medication, TMS therapy, MeRT, IV Ketamine, Spravato, photobiomodulation, IV nutrition and referrals for cognitive behavioral therapy (CBT), dialectic behavioral therapy (DBT), eye movement desensitization and reprocessing therapy (EMDR), hypnotherapy, psychodynamic therapy and psychoanalysis.
This is mental health care, reimagined.
What Our Psychiatrists Treat
Mental Health Diagnoses
Depression
Generalized Anxiety Disorder
Panic Disorder
Attention-Deficit Hyperactivity Disorder
Bipolar Disorder
Post-partum Depression
Obsessive Compulsive Disorder
Substance Use Disorder/Addiction
Eating Disorders
Obsessive-Compulsive Disorder
Post-traumatic Stress Disorder
Cognitive Impairment
Dementia
Borderline Personality Disorder
Autistic Spectrum Disorder
Chronic Pain
Fibromyalgia
Chronic Fatigue
Symptoms
Unexplained sadness or nervousness
Chronic irritability
Sleep disturbance
Suicidal ideation
Inability to relax
Unintended weight loss or gain
Mental obsessions
Compulsive behavior
Poor impulse control or frustration tolerance
Anger outbursts
Tearfulness
Social withdrawal
Loss of interest in others/hobbies
Decreased function at work or school
Problems with concentration/attention
Memory loss
Difficulty initiating activities
Feeling disconnected from one's self or surroundings
Inability to maintain relationships
Deterioration in personal hygiene
Rapidly shifting moods or feelings
Personality change
Our Locations
• • Frequently Asked Questions • •
Questions? We've Got Answers.
When Should I See a Psychiatrist?

It's probably time to schedule a mental health check up by making a psychiatry appointment if you're having thoughts, emotions or behaviors that are affecting your relationships, your work or your sense of well-being including:

-Difficulty concentrating or making decisions

-Feelings of hopeless, helpless, or worthlessness

-Prolonged feelings of sadness or chronic stress

-Thoughts of harming yourself or others

-Hallucinations or delusions

-Negative thought patterns

It can be helpful to treat yourself like your own best friend. If someone you care about asked you what they should do about your symptoms, how would you guide them?

How Can Psychiatry Help?

Getting timely and appropriate help for a mental disorder can make a big difference. Psychiatrists and psychiatric nurse practitioners can help you understand your symptoms and choose the best treatment option for your health goals whether that's a referral for talk therapy and/or a medication or non-drug treatment like transcranial magnetic stimulation.

What Causes Mental Health Conditions?

There is no one-size-fits-all answer to this question. However, some common risk factors for mental illness include family history, brain chemistry, trauma, stress and substance abuse. Mental disorders are not caused by a single event or experience; rather, it is the result of a complex interplay between biological and environmental factors. With proper treatment and support, mental health symptoms can go into remission and many people who have struggled with mental health can lead happy and fulfilling lives.

What Are the Benefits of Psychiatry?

Although mental health disorders are highly treatable, many people struggling with their mental health go a long time between developing symptoms and receiving appropriate treatment and support. Early intervention can make a big difference by saving a person and their loved ones from stress, developing more serious symptoms, and reducing the likelihood of problems with work, family, school and substance misuse.

Psychiatry can provide a wide range of benefits for people struggling with mental health symptoms like low mood, burnout, brain fog and trouble sleeping. With proper treatment, people with mental health symptoms can lead happy and fulfilling lives. Some of the specific benefits that psychiatry can provide include:

-Reducing the symptoms of mental disorders

-Improving the quality of life

-Helping people to better understand their mental health condition

-Providing guidance and support to people struggling with their mental health

-Offering referrals for therapy and/or medication management

-Creating a personalized treatment plan

Why Choose Neuro Wellness Spa Psychiatry?

At Neuro Wellness Spa psychiatry, our providers offer the latest treatment interventions for the best outcomes possible, including medication, TMS therapy, MeRT, IV Ketamine, Spravato, photobiomodulation, IV nutrition. Not to mention, we have appointments available in days not weeks and we're in-network with most insurances. Get started today.

Is Psychiatry Just For Medication?

No! Most psychiatrists use a combination of medication, psychotherapy, and lifestyle changes to help patients manage their symptoms and improve their overall well-being. If you're experiencing lingering symptoms, unwanted side effects after trying a medication, or if you want to supplement your mental health medication, you and your psychiatrist might consider an alternative treatment including TMS, IV Ketamine or Spravato.

How Can I Prepare for a Psychiatry Appointment?

There are a few things you can do to prepare for your psychiatry appointment and get the most out of your visit. First, it can be helpful to write down a list of symptoms you've been experiencing and any questions you have for your psychiatrist. It can also be helpful to keep track of any changes in your mood or behavior so that you can share this information with your psychiatrist. If your psychiatry appointment is virtual, ensure you are in a private, quiet space with a strong internet connection.

Finally, if you're seeing a new psychiatrist, it can be helpful to arrive early to fill out paperwork. By taking these steps, you'll be better prepared to discuss your mental health with your psychiatrist and make progress towards feeling better.

Can my psychiatry appointment be done online?

Yes! We conveniently offer telehealth appointments for psychiatry and medication management to any resident of California.

Is Psychiatry Covered by Insurance?

Yes! At Neuro Wellness Spa psychiatry, our team of world-class psychiatrists and nurse practitioners offer convenient, affordable appointments that can be scheduled online or in person. Plus, our psychiatry appointments are covered by most insurance providers including Aetna, Anthem, Blue Shield, Optum, MHN/Healthnet, Tricare, Cigna, Magellan and Beacon and more.

So, you can focus on what's important: getting the help you need. Our phenomenal psychiatry team is always available to help prospective patients understand their coverage options. We know how important it is that those seeking help are able to get the treatment they need. Not to mention, at Neuro Wellness Spa psychiatry, we handle all the paperwork.

Do you offer any other mental health services?

Yes! Neuro Wellness Spa Psychiatry offers a selection of the latest treatment methods and services such as TMS, IV Ketamine, and Spravato for those suffering from anxiety disorders, mood disorders, and more. Call a member of our care team to find out if they are right for you.

Don't see your question here?

Let's fix that. Give our expert clinical team a call or schedule a free consultation.
For more information about our Psychiatry Services in Los Angeles contact us today. Wondering if you are covered by insurance? Let an expert guide take you through our Admissions Process now.
• • Testimonials • •
What Our Patients Are Saying
My Life Started To Turn Around

Within just a couple of weeks of TMS treatment, my life started to turn around. I felt in more control of my emotions and that led to better life decisions & a healthier lifestyle.

John

Incredible Progress In A Short Amount Of Time

My life has completely changed with ketamine therapy. My therapist even said she had never seen such incredible progress in such a short amount of time.

Shannon

We Got Our Son Back

After eight weeks of MeRT treatments, our son is now more verbal and much happier. He started communicating with us and making jokes.

MeRT Patient

A Game Changer

IV nutrition has been a game changer and a great way to start my week. I love how I instantly have more focus, energy and I feel like I can tackle anything.

Amber

Got The RIGHT Meds

Spent decades on meds that weren't right for me. Took the genetic test, learned about what would work for me and got the RIGHT meds. Has made such a difference for me.

Jean

TMS Changed Everything

I was so low on energy and TMS changed everything. Now, I look forward to starting my days. My focus has improved. I appreciate things I couldn't even notice before.

Rob

Relieved My Symptoms After A Lifetime of Struggle

I was amazed that Spravato relieved my symptoms after a lifetime of struggle. Today, I'm leading a class in mental health, working in my greenhouse & spending time at the beach with my dog, Oshi.

Robin

It Gave Me A Bigger Picture

It was interesting to see that according to the genetic test, I'm a fast metabolizer of that particular pain medication. It gave me a bigger picture of how my genes work.

Rachel
• • Get in touch • •
Contact Us